Protecting Your Privacy is Our Priority
Frequently Asked Questions
Why do I need to pay someone to do my shredding when I have a paper shredder of my own?
Paper shredding is a non-revenue producing function that eats up valuable employee hours. By outsourcing this task to Watchdog Document Services you save your company time and money.
We are NAID certified which means:
Persons with a known history of related crimes are not employed by our organization
Security and operations policies/procedures are written and followed
Access to materials is restricted at all times
Containers and vehicles protect information from unauthorized access at all times during transport and processing
There is a secure chain of custody
Will I need to remove paperclips, staples, and folders?
No, our shredders can handle folders, binders, paperclips, binder clips, and staples.
How do I know the employees who handle my information are trustworthy?
All Watchdog employees are held to a very strict standard. Federal, state, and local background searches are done on a scheduled basis to ensure the trustworthiness that is expected. Drug tests are also administered regularly for all employees that you will see in your business.
Do you provide a certificate of destruction?
Yes, after each service the driver will leave you a document of destruction and invoice signed by him to attest to the service performed.
What sets watchdog apart from any other service out there?
There are two questions that must be answered to adequately answer this one question.
What standards are put in place to insure how my information will be handled? For 13 years Watchdog has been NAID AAA certified. This is the most stringent requirements of our industry. This puts the requirements in place for background screens, drug tests, equipment we use, and every other facet of the shredding operation.
Will you then say that I can find a few companies within the state with this certification?
We cannot be beaten on customer service. We know you, you know us, and we will do whatever possible to meet your needs!
Where do the boxes need to be located in order for the Watchdog secure destruction specialist to take care of it?
The materials need to be on the building's first floor or have elevator access if located on an upper floor. The specialist will use a rolling cart to load and transport the material to the truck to shred.
How do I estimate the size of my job?
The size of your job is judged by how you have your information stored. We can handle files straight off the shelf, in filing cabinets, stored in trash bags or boxes. If you can determine the size of the container and quantity, we can estimate the size of your job.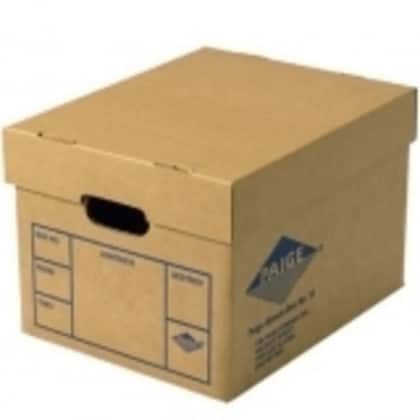 Capacity: Approx. 30+ lbs. of paper
Dimensions: 12″W x 15″D x 10′"H
Capacity: Approx. 50+ lbs. of paper
Dimensions: 12″W x 24″D x 10″H